NFALAW est fier d'être cette année encore l'unique cabinet choisi pour rédiger le chapitre « France » du guide Chambers and Partners Sports Law 2022. Ce guide fournit les dernières informations relatives au sponsoring sportif, aux procédures disciplinaires et au contentieux, à la gouvernance, aux paris sportifs, à la propriété intellectuelle et à la data, à la lutte contre le dopage, au sport électronique, ou encore aux NFT.
Pour en savoir plus : https://practiceguides.chambers.com/practice-guides/sports-law-2022/france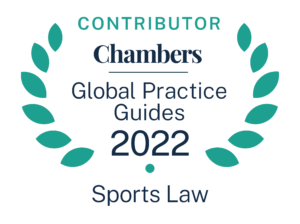 NFALAW is proud to be, once again, the only firm chosen to author the Chambers and Partners Global Practice Guide, Sports Law 2022 – French jurisdiction. The guide provides the latest information on a variety of topics including commercial rights, disciplinary proceedings and litigation, corporate governance, betting, intellectual property and data, anti-doping, esports and NFTs.
More information: https://practiceguides.chambers.com/practice-guides/sports-law-2022/france